Reading Time:
5
minutes
You decided to bring something new to the world, to make people life easier and started a new business. You found out a niche for your product. Let's say something in the beauty industry. You saved up the necessary amount of money, analyzed the market, examined your target audience. You hired a few professional, connected with product suppliers and started working. Everything was well underway. First costumers appeared and they were satisfied with your commodity. But where was the revenue growth? Why did the audience stop expanding? You involved marketing guru but even they managed to increase your revenue only for a small percentage.
The answer is simple.
Digital technologies.
Nowadays time is precious and people don't want to waste it. It became possible to have everything within touch — on the smartphone. So adjust your business and transform it into the technical solution. Use all available digital capabilities and targeting online consumers will change the cost-efficiency of the business.
Don't believe? Let's be specific.
How a mobile app can benefit beauty business
1. One-to-One connection with customers
The mobile app gives you the chance to engage with your target audience. You can easily look over their feedbacks, reviews, queries, demands and draw a conclusion. And your fast response will always benefit you in customers eyes and help to build a long-term connection.
2. Intensify your visibility
Use a mobile app to target new customers and make your brand and service more visible to them.
3. Make your business available and easily accessible
Anybody can reach your product or service from any part of the world at any time. It will help you to access not only local customers but people worldwide.
4. More efficient business process
The beauty of mobile apps lies in their capacity to provide adequate support and data to users whenever they need it. All the time users are just one click away from getting offered goods.
5. Direct Marketing
Once your business is supported by a mobile app you don't have to worry about spending extra money on different promotional activities. Your mobile app will proceed as a direct marketing channel which is the faster way of business exchange. It gives you the opportunity to reach out to customers with the latest updates, deals, and offers. At the same time, customers can approach directly and provide you with feedback.  
These are all benefits to your business. But what will users get from using the mobile app that provides the beauty service?
Let's start from the fact, that if you work in a beauty sphere, then you definitely engage 2 types of users. Those, who deliver service, and those who receive it. Both of them will benefit from cooperation with you, but they will have extremely different advantages.
Benefits for Users
A great deal of choice (of different beauty services that are on the market) is significantly expanded
It's easy to find professional experts in different spheres
Users can ask experts directly for help
It's convenient to read advice stories and get the necessary information from them
Users have an ability to examine the results of experts work with the help of shared photos
A handy process of publishing users' own photos to share results or their beauty tricks with others
It's easy to find out and compare products other users or experts use
Users can arrange meeting the professional in their area and reduce the "Wait time"
A list of experts is safe and secure as it comes through the admin verification
Benefits for Experts
Direct targeting of customers
The possibility to get a connection with a targeted audience even beyond the principal place of business
Experts can show the results of their works by sharing pictures to show customers the quality of the work
Direct marketing of their service and the possibility to tag products on pictures and eventually sell them
Ability to become familiar and famous among Internet users
Big profits
A great increase of regular customers
Beauty Mobile App: how does it look like?
Basically, it's possible to create a beauty service mobile app without investing a huge amount of money. This will be a boring application without advanced features. Will you be satisfied with such a result and how long such an app will stay in the competition? To make it more popular and more appealing, you should be ready to invest more money in it.
Let's look under the hood of the prosperous beauty mobile app.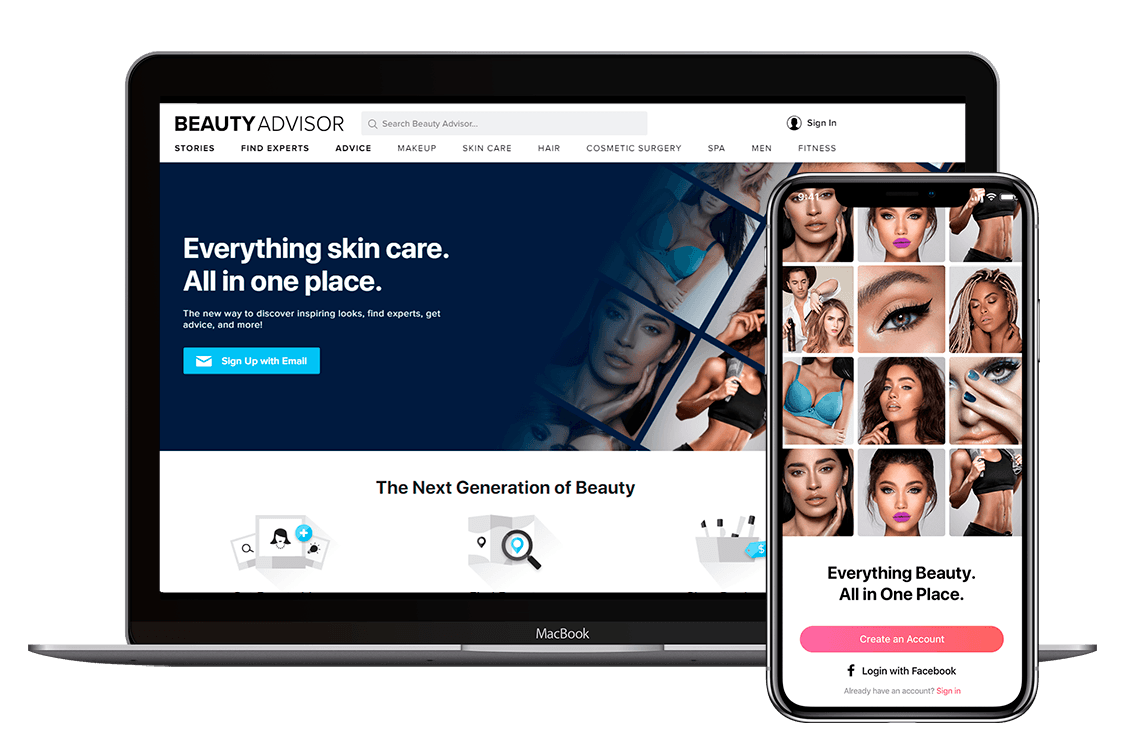 User Panel
Registration: Users can register to access the beauty experts and services. The registration process is simple and there is a possibility to log in with facebook account.
User Profile: Users can view their profile with uploaded photos and videos, participate in conversations with others and keep track of all latest releases and stories.
Explore: It allows users to monitor the most popular beauty trends and filter them up to their taste.
Find Professionals: Users can use the direct search to find experts or use a filter to sort results by expert's type, categories or location. Having found an appropriate expert, a user can send the message directly to pro and schedule the appointment.  
Advice Section: Sometimes it's hard to make a choice or the right decision. That's why the ability to get free advice or help from experts is of great importance. Users can filter questions by category and sort them by different options to find the most interesting topics to discuss.
Stories: Editors and fashion experts regularly writes and shares the most outstanding beauty stories. If it's hard to decide what to read next, there are suggested trending stories and the ability to filter the information.
Social: The activity stream will inform users about every single bit of information. Users can also communicate with experts, other users, and authors of stories via direct messages.
Beauty Professional Profile: It allows users to access the information of beauty experts of define service type, and examine their posted materials.
New Products: Users find new beauty products that are tagged on photos.
Before & After Collages: Users can look through collages made by professionals with the comparison of their work.
Beauty Expert Panel
Registration: Experts in the beauty industry can easily register by providing their details.
View Customer messages: Beauty professional can receive direct customer messages and get in touch with them.
Demonstrate work: Experts can upload photos or videos of their work and create before and after collages.
Give Advice: Users have a lot of questions and answering them can be the best marketing for beauty professionals.
Advanced Features
Social Login: Nobody wants to spend minutes on the login process. It's important to simplify this process. Using social channels makes it much faster and convenient for users.
Social Login: Nobody wants to spend minutes on the login process. It's important to simplify this process. Using social channels makes it much faster and convenient for users.
Geo Locations: This feature will help users to find beauty experts according to their location.
Predictive Search: Users can search for experts sorted by their type, categories, and location.
Advanced Filter: It will sort experts results by latest activity, featured, popular and unanswered.
In-app Messages: Users can chat with each other and with beauty experts directly in the app.
Push Notification: The push notifications are real-time updates that will keep a user informed about any activities related to an app or services.  
Any business should strive for improvement. And the way to make it more efficient is to stay tuned to the newest technologies and respond to the innovations. Creating a mobile app can significantly help you to achieve these goals.
You just have to remember that the most important thing for you is to tackle customers problems, make their life easier and your business more available for them. That's why once you decided to create an app, you should carefully plan the work and think over a list of necessary features. Then you will get happy customers and the growth of your business.
If you have an idea about building own marketplace app, contact us and we will help you to implement it.